Fight Parkinson's together this October
Sep. 02, 2022
The 27ForParkinson's challenge is back! So, put a spring in your step and join us for this special community fundraising event.
Since the inception of the 27forParkinson's challenge in 2020, It has been embraced by the community, uniting family and friends no matter where they live.
This year we're asking you to join the fight in support of people living with Parkinson's from 1 – 27 October.
As a community inclusion event, participation in 27forParkinson's is free, but it's through the generosity of the committed individuals and teams who fundraise that we can ensure ongoing access to critical support and services for those who need it.
Participants can create personalised fundraising pages and all fundraising efforts enable provision of free access to Fight Parkinson's vital support services.
Last year, almost 700 people participated, raising $331,000 to help ensure people diagnosed with Parkinson's are supported, educated and empowered to enhance quality of life at every step of their journey.
We hope you can join us this year and help make a difference!
HOW TO TAKE PART
Walk, run, skate, paint or pole dance – we've seen it all. The beauty of this community fundraiser is that it's inclusive and celebrates all abilities – whether you use a walker or can run a marathon!
Run, walk, work-out or do your chosen activity every day for 27 days. You set your challenge and can choose to do it by yourself, with family, a friend or your pet.
You might want to join a local activity class or join a Parkinson's-specific program. If you want to become more active and are unsure of your ability, why not talk to your GP or a physiotherapist about a new activity suitable for you?
You can find more ideas and advice about exercising with Parkinson's on our website or contact us on 1800 644 189.
EVENT T-SHIRT
What better way to create a sense of community than by wearing a t-shirt declaring your involvement in the Parkinson's fight?
Once you've raised $27, you'll receive an automated email requesting your size. You'll then be posted a t-shirt to proudly wear from 1 October?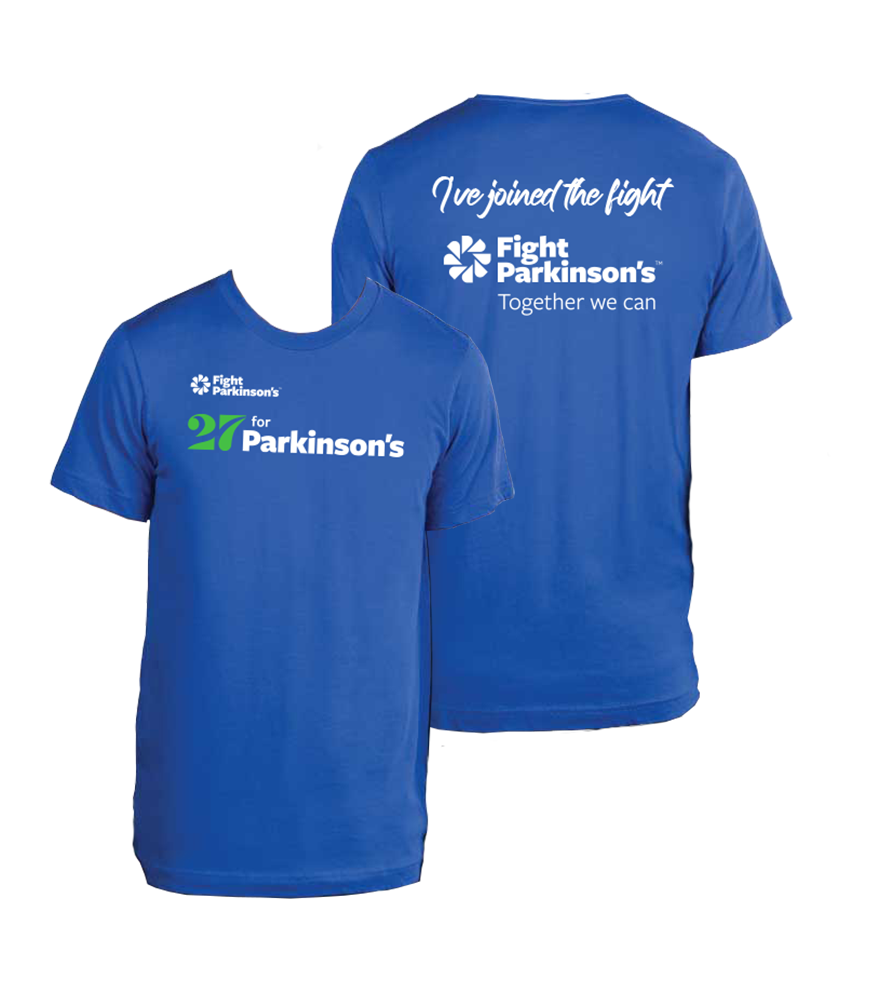 FACEBOOK GROUP
A powerful place to connect during 27forParkinson's is the event Facebook group. Last year more than 300 people joined the group, with many actively posting, commenting and encouraging others in their challenges.
Membership is restricted to event participants (monitored by Fight Parkinson's), making it a safe and supportive place to share stories and photos of your activities and be inspired by others.
The group is ready for you to join now.
SPECIAL DAYS
During the event, we will acknowledge a number of special days including:
Thursday 6 October – TRIBUTE DAY
Friday 14 October – FUNDRAISING FRIDAY
Sunday 16 October - CONNECTION DAY
Wednesday 19 October – WEAR BLUE DAY
These dates are all marked on the calendar you can download along with other online and social media resources.
JOIN THE FIGHT AND REGISTER TODAY →
Remember if you have any questions or need help registering, contact us via fundraising@fightparkinsons.org.au or 03 8809 0400.