Aged Care Learning Hub
Aug. 19, 2022
Fight Parkinson's has launched a new online learning program to build the skills and capabilities of aged care workers caring for clients and residents with Parkinson's.
The market-leading online training program has been developed in conjunction with Fight Parkinson's subject matter experts and is for Health Care workers working in aged care.
Courses available in 2023: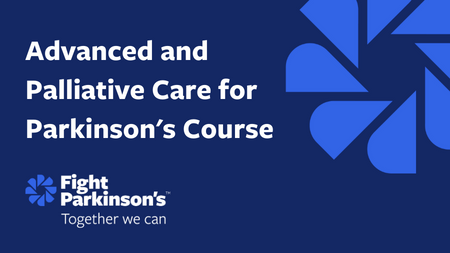 Parkinson's is one of the most challenging diseases to manage due to its chronic, progressive nature, complicated and diverse motor and non-motor symptoms specific to each individual, and limited symptom management options.
These initial courses are designed to empower aged care nurses and personal care assistants with the knowledge and skills to provide evidence-based Parkinson's-friendly care.
Care staff will learn key signs and symptoms and practical ways they can support the person living with Parkinson's.
Upskilling aged care workers' knowledge around Parkinson's-specific care will help improve some of the shortfalls identified in the Aged Care Royal Commission, particularly around nutrition, restraint, dementia and palliative care.
UP TO 8% OF THE POPULATION IN AGED CARE ARE LIVING WITH PARKINSON'S.*
The aim of the courses is leave aged care staff with an overview of the many facets of Parkinson's and an understanding that residents they care for do not fit in one box. As a result, we hope to see residents experience a better quality of life.
The Aged Care training program is being sold to aged care providers and individually to Personal Care Assistants and Registered Nurses working in an Aged Care setting.
Download the aged care
Parkinson's education brochure here: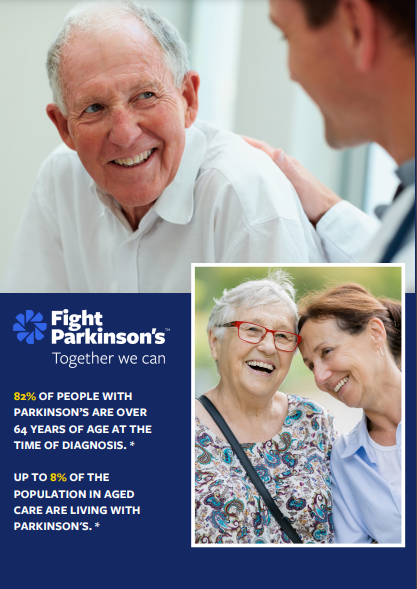 * Goetz, C G and Stebbins, G T, Mortalityadn halluncinations in nursing home patients with advanced Parkinson's disease in Neurology, 1995, p. 669-71
---
---
Learning outcomes for staff
Further develop an understanding of Parkinson's and its diagnosis
Increase knowledge of the key symptoms of Parkinson's including motor, non-motor and mixed-motor symptoms
Develop an understanding of the importance of Parkinson's medications for movement and daily activities
Learn practical strategies to assist those living with Parkinson's in their day-to-day lives
Gain a greater understanding of care planning and when to seek assistance
Access the Fight Parkinson's multi-disciplinary Health Team for secondary consults
Earn CPD points (self-reported, one point for each hour of learning)
Build confidence and an improved ability to support people living with Parkinson's.
Organisation outcomes
Be at the forefront of Parkinson's care for clients living with Parkinson's, their families and support networks
Enhance the service offering for prospective clients living with Parkinson's
Increase peace of mind for families
Reduce falls, critical incidents and complaints
Gain recognition as a 'Fight Parkinson's approved' business, adding value to prospective clients
Access convenient on-demand online learning anytime
Create an engaged, capable workforce to support those living with Parkinson's
Train care staff with minimal cost.
---
For more information, you can email us at info@fightparkinsons.org.au
Interested in using our Learning Hub for your organisation? You can call our reception line (03) 8809 0400
Explore the Aged Care Learning Hub →
Already signed up? Log in here
---
Read our Terms & Conditions