Awards honour dedicated volunteers
Nov. 30, 2022
Founder of the ParKanDo Peer Support Group, Pam West, is this year's Sir Zelman Cowen Award recipient in recognition of her commitment to improving the lives of people with Parkinson's.
The 2022 Fight Parkinson's Awards were announced at last week's AGM.
Co-founder of Williamstown ParkinSong, Mike Jobling, was named recipient of the Harold Waldron Carer's Award.
First presented in 2006, the Fight Parkinson's Sir Zelman Cowen Award acknowledges an exceptional individual and their outstanding voluntary service to the Parkinson's community.
A strong community advocate, Pam has demonstrated her dedication to improving outcomes and services in Melbourne's western suburbs and beyond. Unable to attend the presentation in person, she accepted her award via video link.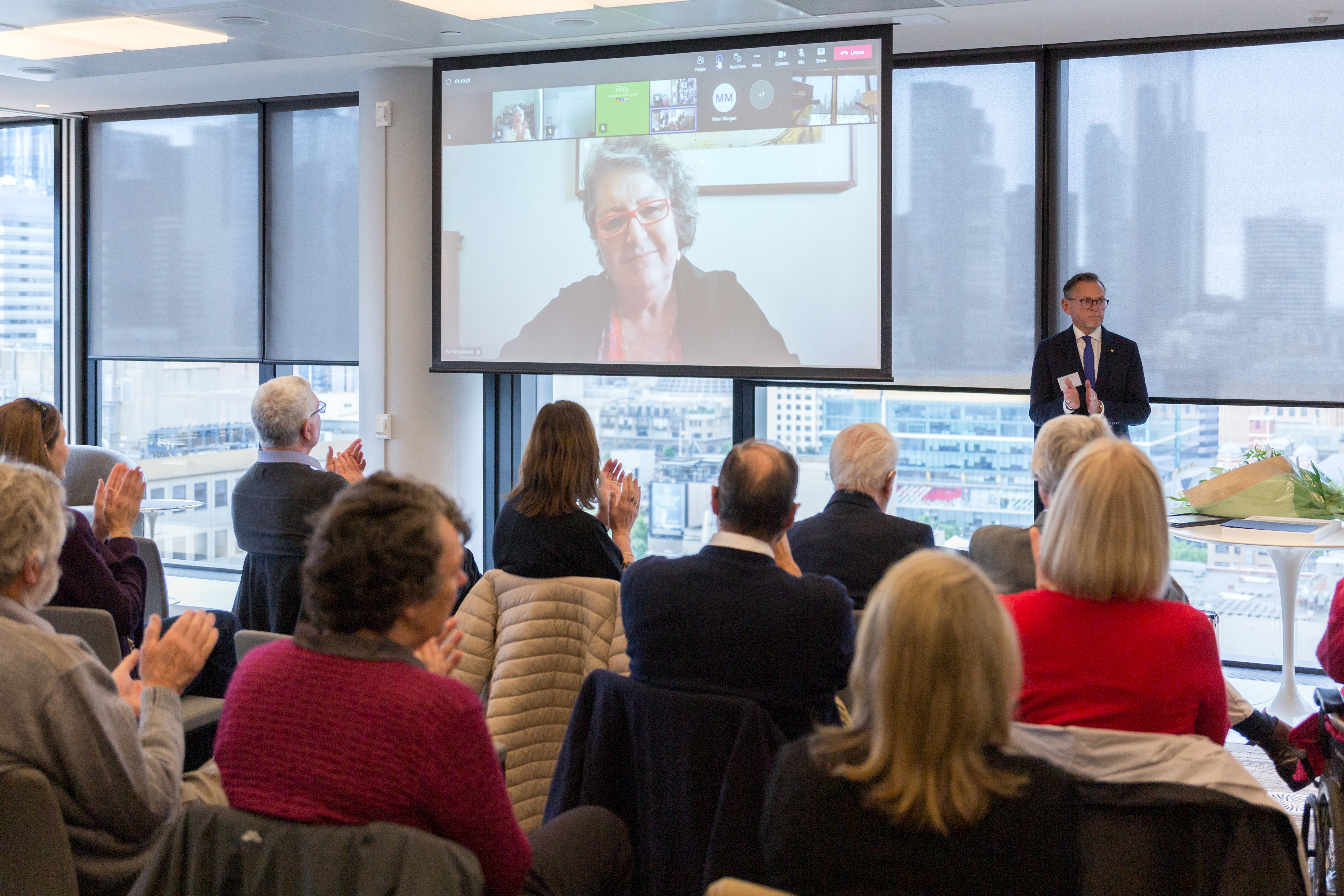 Fight Parkinson's CEO Emma Collin said she first met Pam in 2016.
"It didn't take long to be inspired by her dynamic and inventive approach, her generosity and compassion for others and determination to deliver real impact and change," Emma said.
Since then, Pam has been the face of the 2017 Christmas Appeal, which raised more than $100,000. Her fundraisers included a lunch at the William Angliss restaurant where her guests were treated to a three-course meal overseen by Tony Twitchett from Taxi Kitchen.
The same month, she joined a Fight Parkinson's influencers' breakfast to advocate for new models of care for Parkinson's with health sector CEOs and leading neurologists, sharing her journey, her NDIS experience and how allied health teams had vastly improved her life.
In February 2020, Pam launched a new Peer Support Group in Melbourne's western suburbs. Reflecting her own drive, ParKanDo was developed to offer activities identified and driven by members.
Accepting the award, Pam said she had received far more from volunteering than she'd given.
"Volunteering has given me purpose It's a reason to get out of bed in the morning. There is no greater feeling than that you get when helping others.
"I accept this award on behalf of my co-conspirators, Peter and Carmel Wall and Mimi Morgan. ParKanDo would not exist without them and I cannot thank them enough for all they have done and continue to do."
The Harold Waldron Carer's Award honours a family member or friend touched by Parkinson's who's made a significant and consistent difference to the Parkinson's community through voluntary leadership or support of a leader.
Harold spent an extraordinary 38 years caring for this wife and community, stepping down as Geelong Peer Support Group leader in 2019.
He was on hand to present this year's award to Mike Jobling, who has been a strong and constant supporter of his wife Heather, enabling her to maintain a rich, fulfilling and active life since her diagnosis in 2006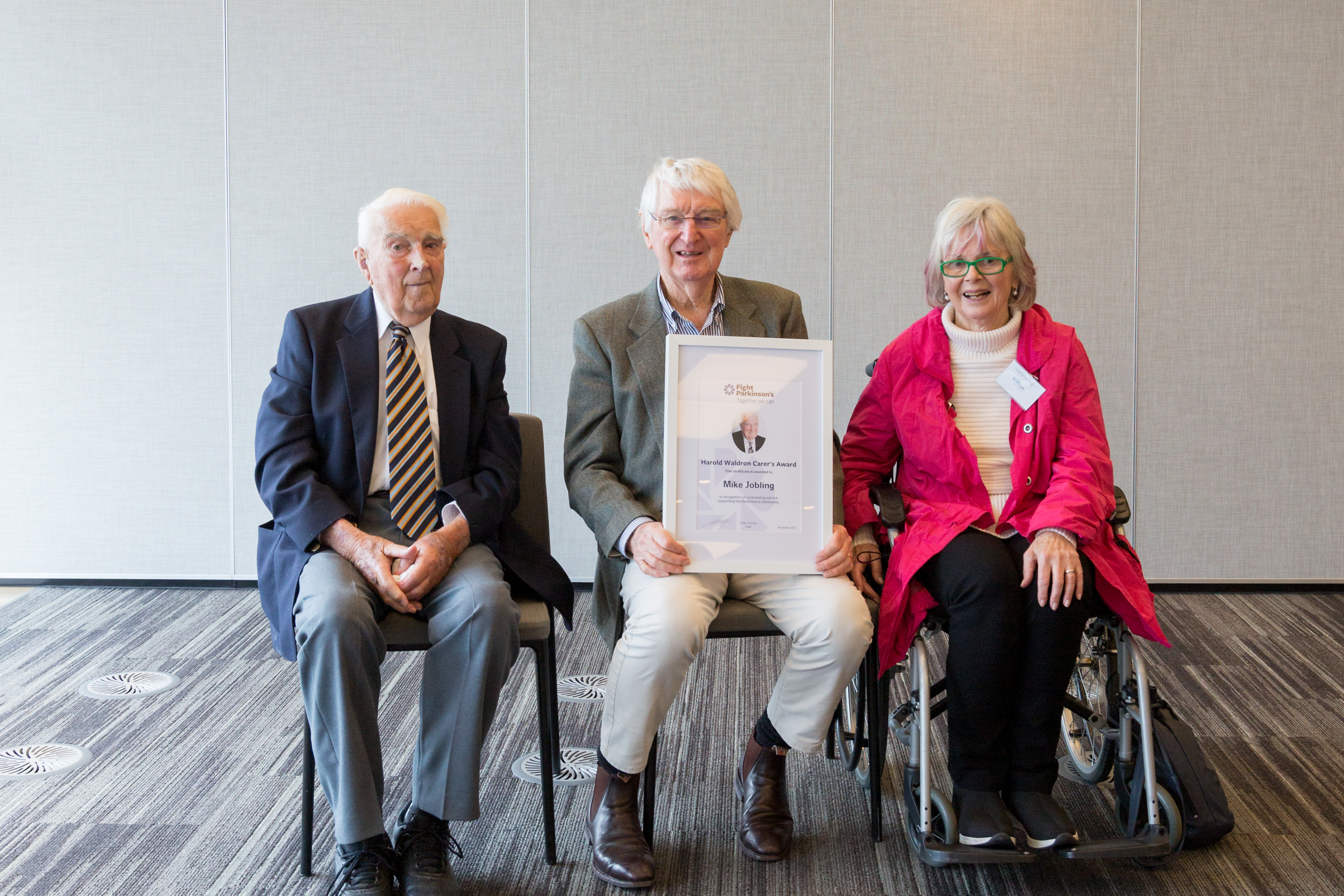 Together they established an interest in the Parkinson's fight, and most importantly, were instrumental in starting a ParkinSong group in Williamstown.
This program went on to become an evidence-based therapeutic program to improve voice and communication for people with Parkinson's.
Mike explained that he was diagnosed with aphasia in March this year, which affected his ability to speak. Despite this, with Heather sitting close by, he graciously accepted his award, thanking Heather, who he said had taught him what caring means.
"Caring means having empathy with your partner, to be able to sense what another person needs from you" Mike said.
He added that he was humbled to receive the award named after a man whose dedication was an example to others.
Fight Parkinson' congratulates all award recipients for their contribution and dedication to improving life outcomes for those living with Parkinson's.
All award recipients can be found here.