For the Love of Mum - Raising Awareness of PSP
Many of us dream about being 'lucky' enough to win Tattslotto. The chances are so slim, but there is chance. But what if those odds are reversed? It's how a PSP diagnosis was described to the Manolitsas family – like winning Tattslotto, but in reverse.
Paul Manolitsas is a passionate young man whose own life, along with that of his parents and two brothers, was changed forever when Mum, Debra, was diagnosed with PSP in 2015.
Debra, who had raised three sons and dedicated herself to the care of others as a nurse, was referred to a neurologist after experiencing multiple, unexplained falls. A series of scans found nothing abnormal, but "things were still not right" and a second opinion was sought.
Debra was then referred to a Movement Disorder Specialist at the Alfred Hospital.
"The neurologist had written a letter to the MD specialist and Mum had brought it home. I remember it quite profoundly – she read it and obviously the neurologist had a suspicion of PSP.
"At that stage Mum hadn't been told about what it could or could not be, but the power of the internet, looking things up, it was quite shocking to her.
"She shared the letter with me – it was quite a confronting thing to read. A couple of days later she was diagnosed. There was an element of fear of what's to come."
Paul was living with his parents until he moved to Sydney in December 2019.
"It's one of those things that no-one thinks will happen to them, or to someone who they care about, but when it does its one of those life-changing things, everything pivots on a dime and you just have to adapt."
Paul's Dad, Andrew, is Debra's primary carer, and Paul is also keen to make sure he also gets the support he needs.
"Because PSP is such a rare condition and there's not a whole lot known about it in the community compared to MND, I think there's been a mixed bag in the level of psychological and emotional support," Paul said.
COVID-19 threw an extra layer of difficulty, watching his parents cope from afar, although Paul said telehealth was the one positive, removing a lot of the need to travel.
"It's definitely concerning, particularly with a neurological condition like PSP, where people are susceptible to respiratory illnesses. Mum has difficulty eating and swallowing so any upper respiratory tract infection is not ideal.
"It has been difficult being in Sydney and away from it; there is nothing like a coronavirus to give you some perspective on life and what is important, particularly when dealing with unwell family members."
He is also keen to promote awareness of PSP and raise funds for the support Fight Parkinson's provides. This follows on from raising just over $2000 in 2019, when he linked fundraising to a Himalayan trek in October.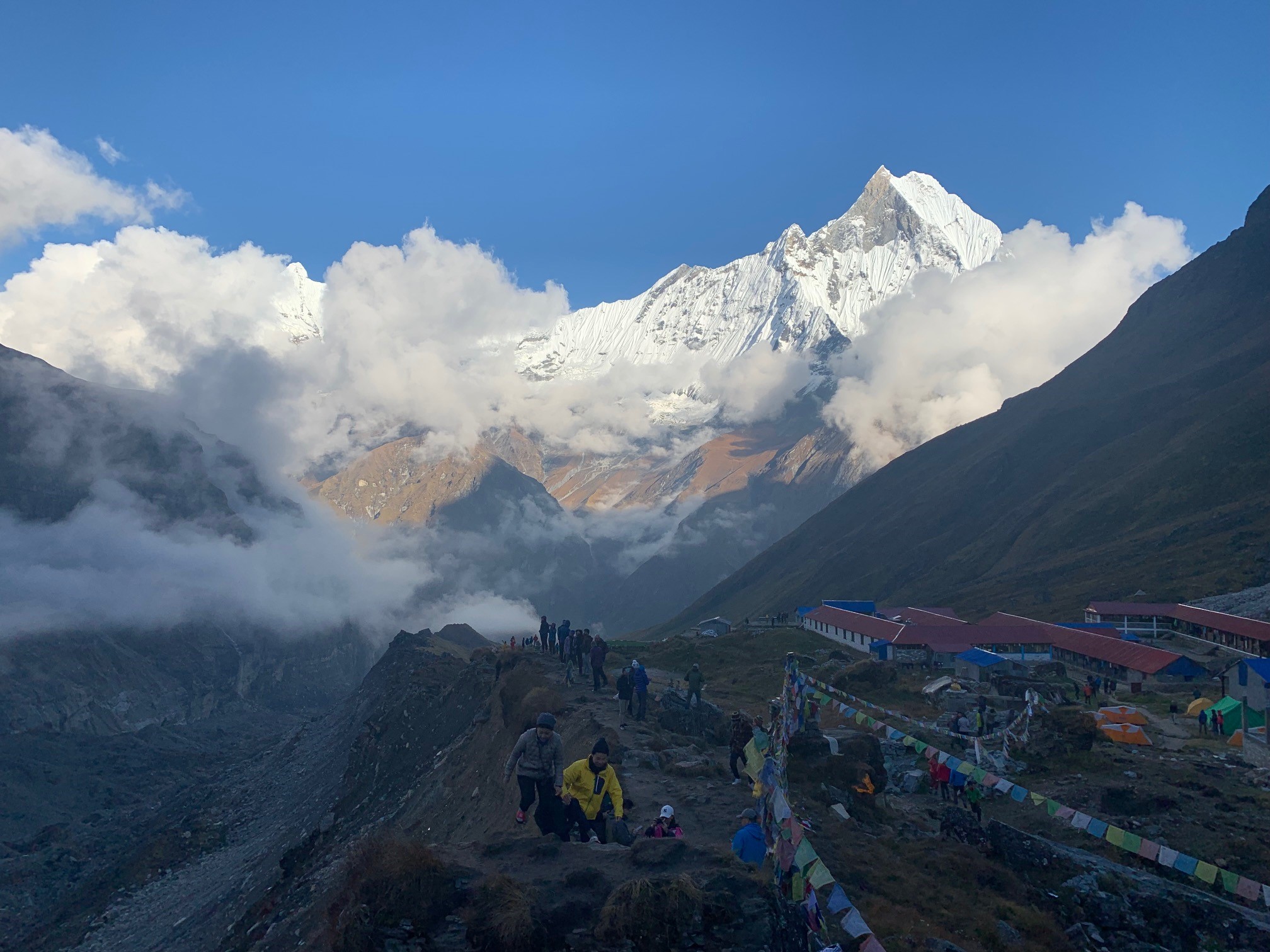 "We were going to do the trek anyway. We had booked it, then as the year went on and Mum's condition worsened, we thought about how we could try and bring some awareness to PSP, so we blended the two together."
Paul said it was difficult to describe PSP to people, and the level of emotional support it requires.
"It's a disease not a lot of people know about and when you speak about it, you have to explain that it's similar to MND but a bit different – it's got a similar prognosis, but different," he said.
Paul said while search for a cure was important, so too was providing support for those living with the condition.
"That was one of the reasons why we tried to look at supporting some of the important work Fight Parkinson's do."
Parkinson's Victoria provides a national information and support service for families affected by PSP, including a free health phone service and online support group.
Photo: Paul with his mum Debra and wife, Ruby